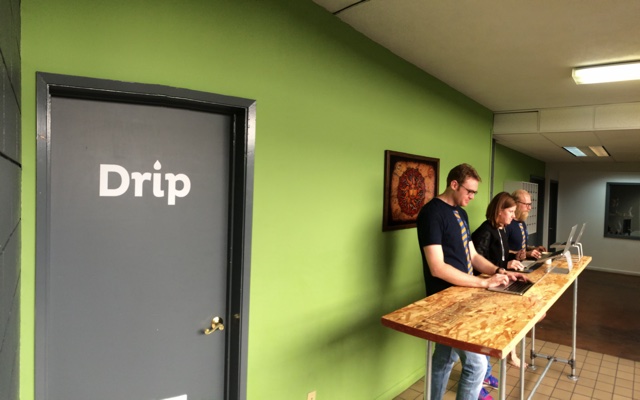 This post discusses things you've told us again and again that infuriate you about email marketing software, and how we hope to fix them for you today.
Yesterday, I made a few grandiose predictions about where I think email marketing and automation are headed based on the most common complaints we hear about the dozens of email marketing tools our customers have used (including our own).
Unfortunately, it seems that a lot of things are still broken with email marketing software.
Here's the shortlist:
Using "lists" to organize subscribers
Lack of tags & automation
Rats nests of automation rules
Absence of a visual campaign builder
Buggy visual campaign builders
Ugly/overly complex visual campaign diagrams
And several others…
Drip has been all set on the first 2 points for going on 2 years, but the more we've heard the other issues, the hotter the fire burned in our bellies to fix them.
It's hard to stand by and watch people feel frustrated with the tools they're using to run their businesses.
Enter Workflows
So we spent months researching, dissecting, and studying the best aspects and biggest shortfalls of today's email marketing tools.
During the design process we focused on designing something to make your life easier. And we kept circling back to three goals:
Make something that's easy enough to learn without documentation
Meet or exceed the capabilities of the most powerful tools available
Make something that's easy for you (the user) to maintain
With the above as our focus, today we launch the biggest feature to come out of Drip in 18 months. We hope it has a dramatic impact in how you communicate with your subscribers, and that it makes your life easier along the way.
We call them Workflows.
Sound interesting? Try them free for 21 days, or keep reading for more about how Workflows can make your life easier.
Workflows: The What & The Why
The benefits of a visual builder in email marketing and email automation are fairly obvious: a visual approach eliminates the need for chains of automation rules that leave you no visibility into a subscriber's path through your email campaigns, tags, and other actions.
In essence, they make complicated things easier to build and maintain.
Workflows accomplish this by displaying an entire user journey in a single, gorgeous, visual flow that makes it easier for you to learn, fast to build, and simple to maintain.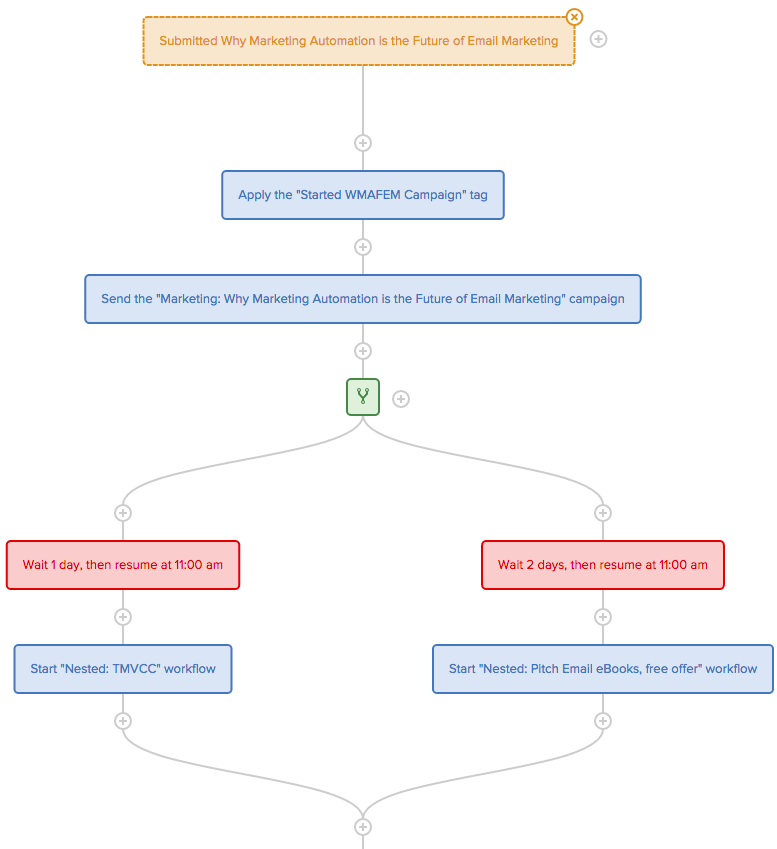 Apply a tag, send an email or an entire campaign, wait for 2 days until the following Tuesday at 11am, branch with if-then logic, and do about 30 other things…all defined visually using the power of Drip's automation engine.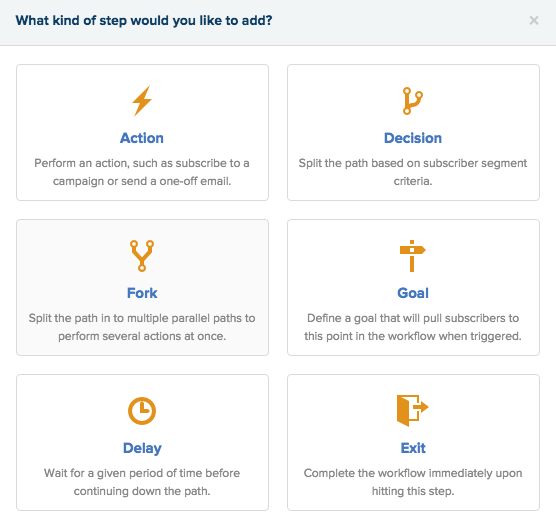 After using Workflows for the past few months I've begun to realize that if you're not using a visual builder for multi-step subscriber journeys, you've made a wrong turn at some point.
Workflows: How They're Different
There are other visual automation builders; four or five, depending on how you count.
While ours is not the first, we've put all of our muscle behind making it the best. It fixes the things you've found broken with other visual builders.
We put our muscle behind the three goals I mentioned above, each one focused on making your life easier:
Make Workflows easy enough to learn without documentation (even though we did write documentation)
Meet or exceed the capabilities of the most powerful visual builders
Automatically make your Workflows self-documenting and easy to maintain
As a result, we made a number of design decisions that are a bit different than other visual builders.
Here are a few:
Workflows were designed to self-manage and always look amazing. Workflows manage their own appearance – including step and path placement – so you don't have to. This saves you time and eliminates the potential for creating ugly, confusing, and hard-to-maintain diagrams.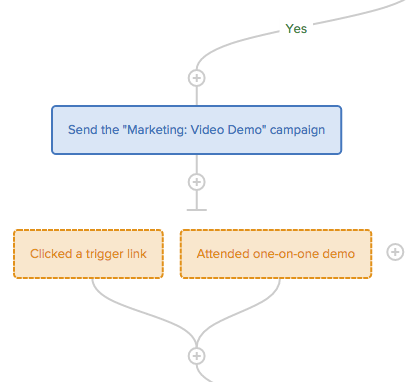 Hyper-intuitive. New and existing Drip users who have tried Workflows get up to speed in a few minutes, rather than the days of training and thousands of dollars required by other automation tools.
Visual, but not drag-and-drop. If you've used a visual builder, at some point you've run into bugs. Eliminating drag-and-drop drastically reduces your learning curve, as well as the possibility of new bugs caused by web browser updates and plugins. This means less frustration for you in the long-run.
Includes Goals for interrupting a Workflow (they'll make you feel like Superman).
Only one other visual builder includes goals that can interrupt a subscriber's progress and leapfrog forward. They are deceptively powerful, and will make your life easier by keeping you from having to check at every step if someone has made a purchase. If this doesn't make complete sense yet, trust me for now. Goals are huge.
Exits: A new concept in visual builders. Exits are a concept we created to make it easier to build simpler, easier to read, and more maintainable diagrams. Any subscriber who hits an Exit, no matter where it's located, is removed from the Workflow.
Vertical scrolling. Unlike a few of the tools we tried, we believe scrolling works best when it's top-to-bottom (rather than left-to-right), the way the web intended.
Designed to be read by humans. In Workflows, your logic and configuration are not hidden behind double-clicks. Each step includes all the information you need, at-a-glance, making it easier to skim through an old Workflow and quickly determine what's going on.

Built-in reporting. For the analyst in you, see how many subscribers are in the current step, and how many have passed through it. A single click shows you the list of subscribers.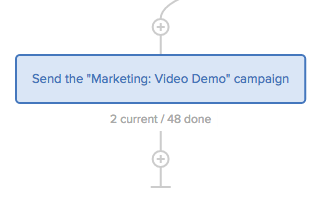 Workflows are visual. Tables are still good for email campaigns. Visual is great for chaining goals and actions together. But for building email campaigns…it's pretty bad.
Re-ordering emails, inserting emails, or having 100 emails in your sequence…all are painful in a visual editor.
So we wanted to give you the best tool available and as far as we know, we're the only email marketing platform with both a visual builder and a table-based email campaign editor.

One-off automation rules are still super handy. In the move to visual everywhere, other companies either never build, or abandon one-off Automation Rules. We've found that Automation Rules are still a crucial feature for performing simple, one-off actions.
This keeps you from having dozens of one-step Workflows cluttering your account.
There's a place for visual, and there's a place for Rules. As of today, Drip is the one tool that makes your life easiest by offering both.

Sound Interesting? You Should Check Them Out…
There's far more to how Workflows can help you than I can convey here. The next step is to get your hands on them and try for yourself.
When you do, let us know if we achieved our goals:
Easy enough to learn without documentation (even though we wrote documentation)
Meets or exceeds the capabilities of the most powerful visual builders
Automatically self-documenting and easy to maintain
Our hope is that Workflows dramatically change the way you interact with your subscribers.
If you're a Drip customer, they are available in the Automation area of your account.
If not, try us free for 21 days here, and be one of the first to experience a tool whose sole purpose is to make your life easier.